Two Steps From Hell
Two Steps From Hell es una compañía de producción de música formada en el año 2006, ubicada en Los Angeles, California, EEUU. Fundada por Nick Phoenix y Thomas J. Bergersen la compañía produce música principalmente para avances de películas (los conocidos trailers). Sus discos están entre los diez mejores albums en iTunes, Amazon y CD Bay.
Aunque solo tienen dos albums publicados (Invincible y Archangel) tienen un tercer disco: Illusions (2011), pero fue publicado bajo el nombre de Bergersen en lugar de Two Steps From Hell.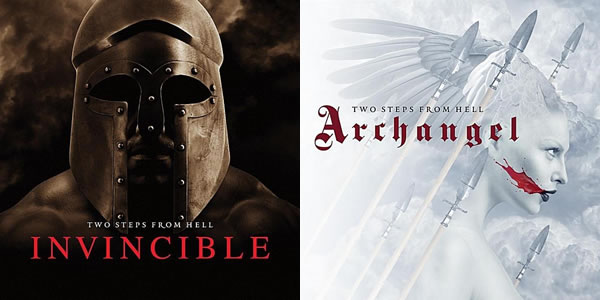 Entre su discografía (demografía?) que no está disponible al público tienen los siguientes discos:
Volume 1 (2006)
Shadows and Nightmares (2006)
Dynasty (2007)
All Drums Go To Hell (2007)
Pathogen (2007)
Nemesis (2007)
Dreams & Imaginations (2008)
Legend (2008)
Ashes (2008)
The Devil Wears Nada (2009)
Power of Darkness (2010)
All Drones Go To Hell (2010)
Illumina (2010)
Balls to the Wall (2011)
Faction (2011)
Nero (2011)
Cuando escuché por primera vez el trabajo de este estudio una descarga eléctrica recorrió mi sistema nervioso, tienen todos los elementos que me encanta escuchar en música clásica: temas épicos, grandes coros, ritmos melodioso.